Orbsmart Soundpad 500
The Orbsmart Soundpad 500 is an Android internet radio of the latest generation. It is equipped with a powerful quad-core processor. With the actual Android 5.1 (Lollipop) System and the Google Play Store your Android experience have no limits. Enjoy all your favorite radio and video apps like on your smartphone or tablet.
Highlights
Versatile Android Internet Radio
Ideal also as Alarm Clock, Weatherstation or Bluetoothspeaker
Powerful Hardware (Quadcore CPU, 1GB RAM, 8GB int. Memory)
Actual Android 5.1 OS including Google Play Store Access
7″-Multitouch LCD Screen (16:9) with 1024×600 Pixel resolution
Integrated Camera + Microphone
Specs
Quadcore CPU Cortex A7
1GB RAM
16GB ROM
Android 5.1 (Lollipop)
Wifi 802.11b/g/n (2.4 GHz)
7″ 1024*600 Display
Frontcam + Microphone
Stereo Speakers (up to 90db)
3200mAh battery
Bluetooth
1x miniHDMI output
1x microUSB
1x microSD
1x Line-OUT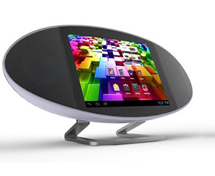 The Orbsmart Soundpad 500 Android Internet radio features a 17.8cm (7 inches) wide display which provides an excellent image quality. The resolution is 1024×600 pixels and shows a high sharpness and bright colors. This Internet Radio is equipped also with a multi-touch screen.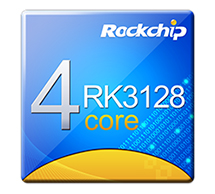 The Soundpad 500 ist equipped with a powerful hardware.

The

quad-core

Cortex

A7

CPU

and

1GB

of RAM

give you

an

absolut smooth

operation

even

in huge applications

.

In addition,

you

now

have

14GB

of free space

available

.

You can expand it easily with an microSD-card

(

up to

32GB

)

.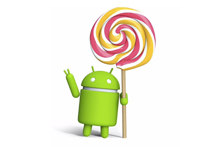 With the Orbsmart Soundpad 500 you have full access of the preinstalled Android 5.1 operating system, which is distinguished for its stability and speed. The operation is simple as usual with Android and very intuitive. All functions can be controlled with simple touch gestures.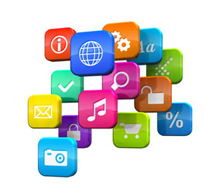 Google Play Store is pre-installed so you can easily download all your favourite Apps. Spotify, Shazam, Soundhoud, Youtube, Facebook, Weather.com and much more are all available in Play Store and work well. Apps not available in Play Store such as Sopcast for Android can be installed by .apk.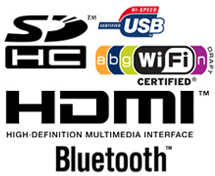 Despite the compact size, there are many connection options available: 1x Micro–USB 2.0 port, 1 x HDMI port, 1 x 3.5 mm line-out and a microSD–slot (for cards up to 32 GB) which is excellent for eg. your photos on your memory card.  With the integrated Wi-Fi(n) antenna you can quickly and easily connect the device to your home network t to access your media files or use the internet. With Bluetooth, you can use the Soundpad as speakers for your music.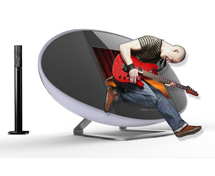 The Orbsmart Soundpad 500 is an excellent piece of hardware with a very small price tag. On the top, you will find buttons for volume control as well as to enable/disable the screen. The Soundpad also features an integrated battery. The directly integrated speakers offer an improved sound and volume (up to 90dB)
Integrated Camera + Microphone
The special highlight: the Orbsmart has a directly integrated camera with a microphone. The Soundpad 500 is ideal for video calls (such as Skype or Google Hangout). So you dont need an additional webcam, everything is already in one compact housing.
This product is based in part on open source software the use of which is subject to the GNU General Public License (GPL) Version 2. The source code of the software will be sent to you on request on a data carrier, the production costs will be asserted in return. Please send us your inquiry to info@orbsmart.de. The license text as well as the liability disclaimer: here or here